The first ever Bhakti Fest Spring Ommersion was a more intimate version of the annual spiritual Woodstock-like celebration that happens in the desert every September. Yoga classes were scheduled throughout the day with an eclectic and inspired group of teachers – Saul David Raye, Govindas & Radha, and Hemalayaa among them. The  festival drew performances from Jai Uttal, Donna De Lory and Dave Stringer, with many of the artists offering workshops on the music's history, meaning and practice. Lectures on green yoga and Hindu mythology rounded out the festival experience, along with a host of delicious raw, vegan and vegetarian food vendors.
Top  :  Kristin Olson in Navasana.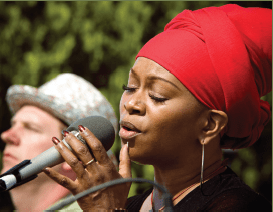 Left :
C. C. White.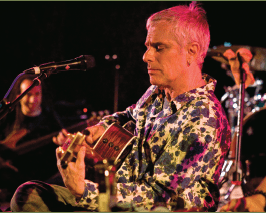 Right :
Jai Uttal rocked the Bhakti.