Uttarakhand is a state in the northern part of India that is rich in history, traditions, and natural beauty. It is home to exquisite hill stations like Nainital and Almora, and the ultimate spiritual place Haridwar, where River Ganga flows through it and blesses it.
I had the opportunity to meet and interview the Chief Minister of Uttarakhand, Dr. Ramesh Pokhriyal 'Nishank'. Originally a poet and writer, who is now in politics, Shri Nishankji has made it his mission to clean up the Ganga with the ambitious and far-reaching project, Sparsh Ganga.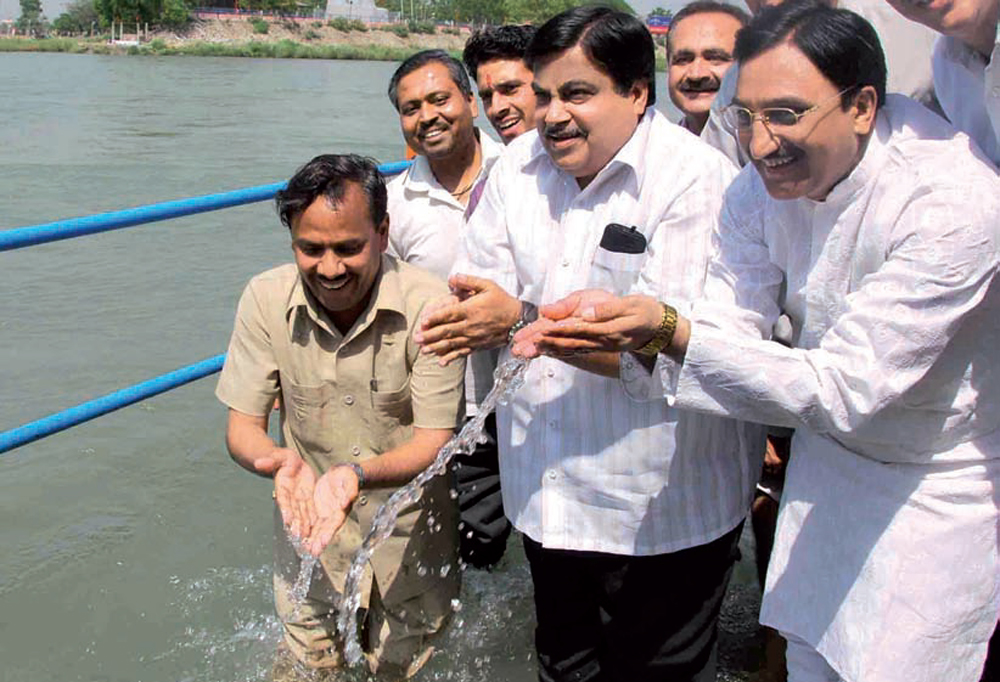 Sparsh Ganga: Chief Minister of Uttarakhand, Dr. Ramesh Pokhriyal 'Nishank' with BJP Chief Nitin Gadkari.
Q: River Ganga is considered India's most iconic and sacred river. Please share your thoughts on this national treasure.
A: Firstly, Ganga is the only river which comes straight from heaven – here in Uttarakhand. Her aim is to bless everyone. Ganga is not just a river, but the "mother." Here is an interesting story. A very long time ago, Emperor Akbar asked his nine ministers, Navratna, about the most important river in the kingdom. They said it was the Ganga. But one of his most trusted ministers, Birbal, sat quietly in a corner. Birbal was asked why he was quiet and whether he was not satisfied with the answer. Birbal responded, "River Yamuna!" Akbar was surprised. Birbal explained, "Because Ganga is our mother!" For centuries now, the Ganga has been revered as the mother and the ultimate symbol of its greatness is the Gangajal (Ganga's water), which is considered to have tremendous healing properties.
Mother Ganga is definitely here to benefit mankind. Her purity, her flow, her cleanliness…she gives us sustenance, nourishment and life.
Q: It is ironical that the Ganga which is considered so pure has been polluted and dirtied. What are your plans for cleaning up the river? And why have you called this project Sparsh Ganga?
A: As I said before, Ganga is considered the mother. No one says, "My mother  is not clean." So we can't say anything  to the effect of cleaning it directly.  Sparsh means "ehsaas" or "feeling." If  you don't feel anything, or if you are  not capable of feeling anything, then  one is an incomplete human being. I  have written a book which is also titled  Sparsh Ganga, and I believe that this  title captures the essence of the project  perfectly.
Q: How long do you think this will take you to achieve? What's your target?
A: I don't think that can be defined. If  you tell someone to do something for  their mother – the topic of deadline  doesn't arise. If a son, even after being  reminded, is not willing to do  something for his mother – he's not  worthy of being called a son. It is not  worth talking to him, or explaining to  him. We want people to get that feeling  about the Ganga and become energized  to make a difference. That's what we  are trying to achieve…to awaken that  feeling of protectiveness and care about  Mother Ganga. It has to become a  person's mission to take care of the  Ganga. Ganga is Amritjal. One drop of  it can grant life to so many people; it gives strength to so many people.
Q: Are you apprehensive about the project getting delayed by bureaucracy? And is there any way people can help on an individual level?
A: We have to ensure that we don't get  caught up in bureaucracy. As simple as that. But we also have a dedicated team  that is devoted to this project. And as I  often say, this campaign for cleaning  the Ganga will not remain confined to  the official machinery. I will also seek  the involvement of common people  living along the river. In fact, I have  invited people from all over the world  to be blessed and touched by her and to feel her greatness.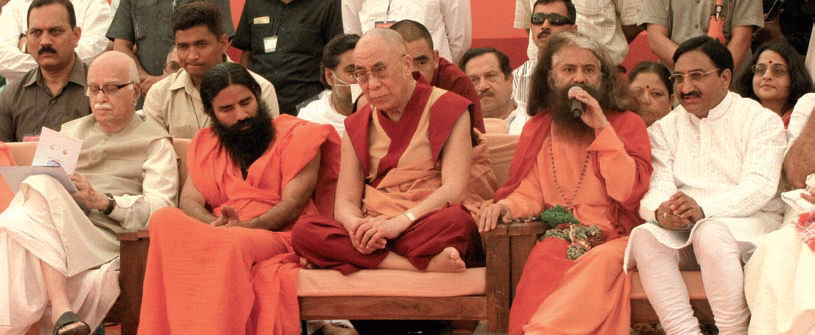 L to R: Shri L. K. Advani, Swami Ramdevji, H.H. The Dalai Lama, Pujya Swami Chidanand Saraswatiji, Shri Nishankji.
Q: The Maha Kumbh Mela was held recently. It is the largest spiritual world gathering of its kind. Usually known for violent stampedes, this time it went off quite well. How did you pull this off?
A: People from over 140 countries  came together. People from different  religions and across the world came  together for "spiritual oneness." There  were more than five million devotees in  the first two days alone. We ensured  that we had strong management, tight  security, and adequate infrastructure for  the event. A reputed management  researcher from Chicago has suggested  that the Kumbh Mela should get the  Nobel Prize for Peace, and I agree  wholeheartedly. I can't think of a more  worthy cause or event.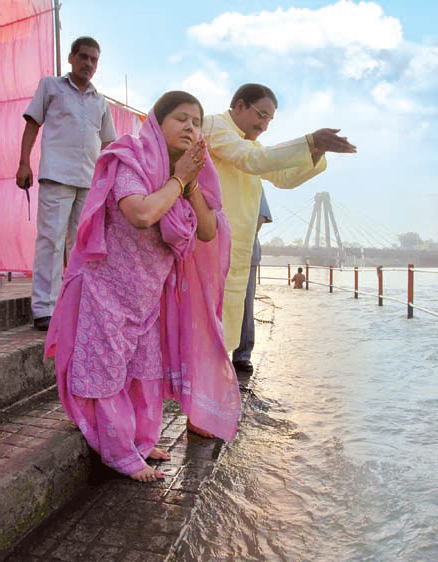 Shri Nishankji with his wife.
Q: From poetry to politics … how did you embark on a life in politics?
A: I don't know how it happened – I  am still a poet at heart. Every person  has a mission in life. I'm attached to  this mission – so I'm not in it for the  politics. India's former Prime Minister  Shri Atal Bihari Vajpayee encouraged  me to join politics and make a  difference to mankind.
Q: What would you say to the youth of today? What are the ways to get them more involved in social projects and spirituality? What kind of responsibility do you expect from them?
A: They have to have a strong sense of  commitment to serve. This is not  restricted to the youth alone. One can  have a youthful mind at any age. I  believe that if Swami Vivekananda  could create such an awakening in the  world, and if Shankaracharyaji  transformed people's lives when he was  in his 30's – why not today's younger  generation? There has to be  determination and dedication.
Q: What do you have to say to Non-Resident Indians? What can they do for India?
A: They should stay attached to their roots.
Q: How would you describe the state of Uttarakhand to the international world?
A: In three simple ways:
Uttarakhand is heaven on earth.
Uttarakhand is the spiritual capital of the world.
Uttarakhand has the world's Sanjeevani booti – the ancient herb that is believed to revive life and cure ailments. Sanjeevani is like Mother Ganga. The world's mind is Uttarakhand. To heal the soul and the body is  Uttarakhand's mission. It is complete  healing for the mind, body and soul.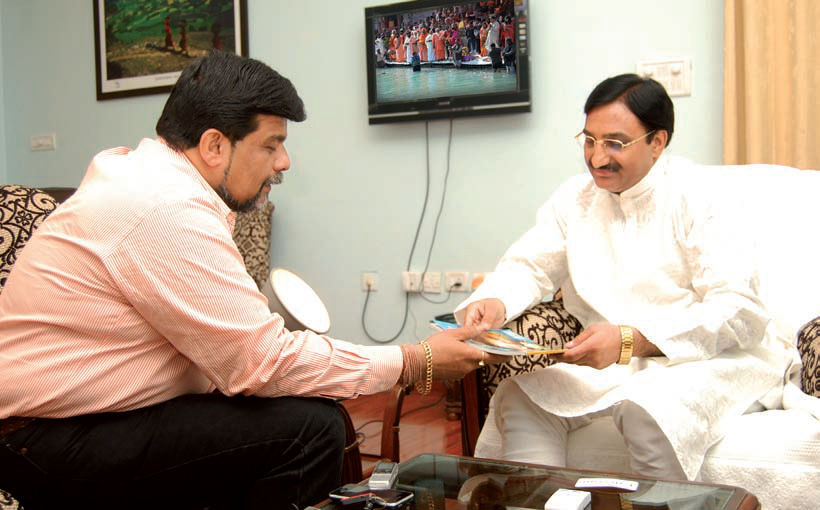 Photo Courtesy: Sanjay Kansal