Through the ages, the search for an elusive elixir to eternal youth and vitality was proved to be none other than the simple and abundant natural element – water! A spa in Mumbai has enveloped all its treatments with this very elixir to restore health, wellness and energy to its guests.
Within the magnetic city of Mumbai, which is nothing but the magical merger of seven islands, a spa couldn't have a more appropriate name than – the "QUAN." Quan, meaning source of pure water (in Chinese), alludes to the belief that wherever two islands meet, there exists a source of healing energy. Borrowed from a language rich in symbolism and imagery, Quan also refers to all things good and pure – an auspicious word to represent a spa that seeks to provide a destination for wholeness and well-being.
Part of the luxurious JW Marriott brand, situated in the heart of the Marriott hotel at Juhu beach, it would not be wrong to call the Quan an urban day-spa. But having the fortune of drawing on the natural and restorative energy of sea (whispering close-by), it can also be titled a "resort" of healing and rejuvenation.
Immerse yourself…
Once within the Spa, the miracle of water lies around you. As you are guided into the lower level of the hotel towards the spa, you realize that the hotel has its own expanse of the pristine seashore. What makes it better is that visitors have central access to the Heat Experience areas, as also the conventional gymnasium and a juice bar, to unwind. The philosophy of "health through stream" pervades every level of the spa as you step out of the elevator.
Blue waves carved on the cement walls, lighting which changes color as the day progresses, and a breathtaking water wall and floor installation by local artist Sunil Padwal greets you, comforting your woes, just as the view of an expanse of sea would.
Ayurveda wrapped with Yoga
The Marriott has ensured that each of its spas within its branches worldwide is true to its local culture (with Mumbai being no exception). Therefore the Quan offers various time-honored healing practices, which are wholly Indian, in addition to popular western treatments. Ayurveda and Yoga practices merge beautifully into Quan's basic philosophy of water being at the core of the ultimate health-enhancing experience. This infusion of ancient Indian therapeutic traditions makes it a draw for many businessmen, who go to the spa to unwind after their fatiguing business meetings.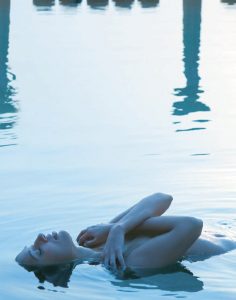 Lost in luxury
Facilities at the Quan Spa comprise eight spacious private treatment suites – six for western style treatments, two for Ayurveda therapy- a Vichy Shower room, and a Couple's room with a free-standing bath. Also available are Heat Experience areas containing a sauna, a steam room, hot whirlpools, plunge pools and relaxation lounges. For healthy post-treatment refreshment, a juice bar offers an array of fresh juices, water, and a selection of spa cuisine.
An outdoor treatment pavilion and yoga studio with trained yoga teachers, are also available for spa guests.
Photo Courtesy: Quan Spa
Personalized holistic treatments
Visitors leave the relentless pace of Mumbai far behind, as the spa suites welcome them to a hushed ambience inspired by Chakra décor and the hypnotic sound of water. The illuminated chakra signs (personalized for each individual as per their dosha type) can be seen under their massage beds during their massage.
On the treatment menu you will find bath, massage, facial, body and lifestyle therapies, which can be picked as a combination of both western and Indian influences.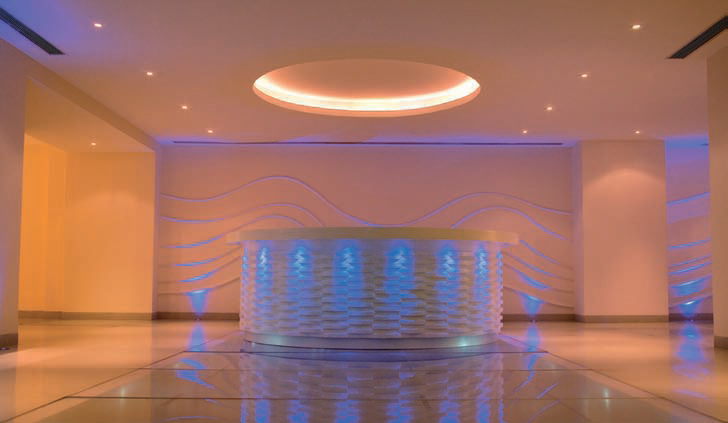 Photo Courtesy: Quan Spa
"The most popular/ frequently used treatment at the Spa is the Aroma fusion massage, which is a 75 min treatment (for an affordable USD 70)!"
Spoilt for choice
The menu can be divided into the following: Rejuvenate; Detox; Relax; Enhance; and Indian Experience.
All the Indian treatments use only the finest scrubs and oils sourced from an Ayurvedic market in Nagpur that enable fantastic results with body treatments. For clientele who fancy western products, the beauty professionals use Vichy showers and baths, and Thalgo (marine-based) products. In keeping with the "water" theme, if the treatment itself does not contain water, then Quan professionals will use products which have ingredients from the sea to benefit the mind, body and soul. The very healing properties of water, combined with well researched life-enhancing therapies, define the breathtaking experience here.
To end a tiring day
The most popular/frequently used treatment at the Spa is the Aroma fusion massage, which is a 75 min treatment (for an affordable USD 70)! This is a Swedish technique using Parajat oil from southern India. Parajat is a pre-blended oil suiting all skin types.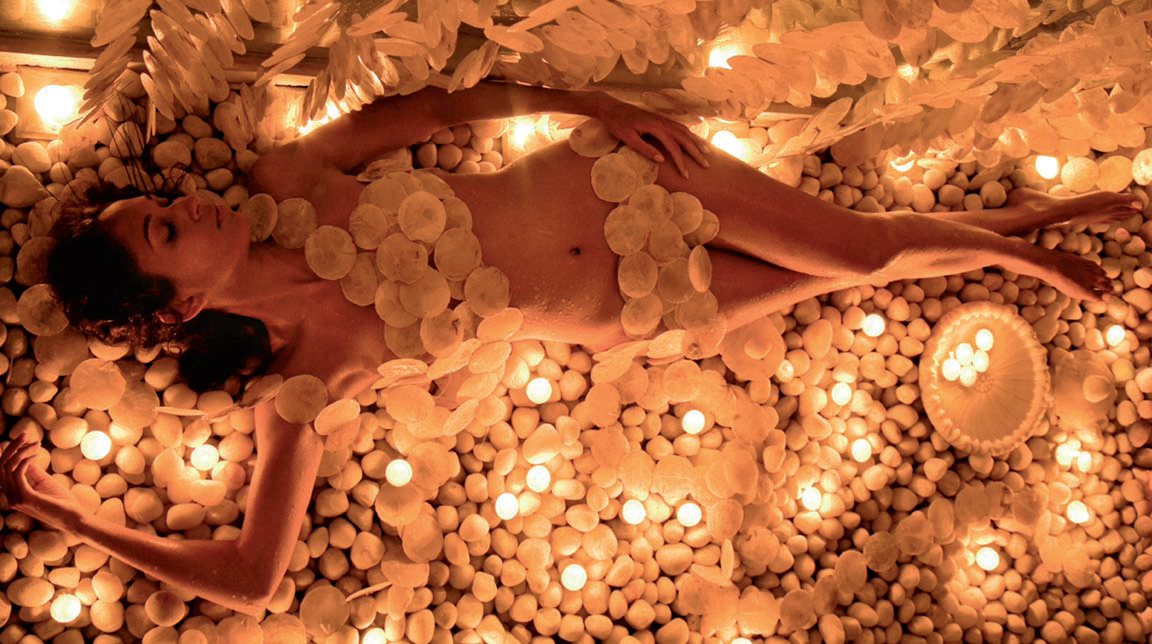 They also offer a fantastic new rejuvenation treatment called Indoceane spa ritual. This is something that would certainly tickle the senses of anyone in a relationship.
Indoceane spa ritual
This glorious spa journey will let your body discover vital relaxation through sensory pleasure, with four different steps from four different cultures.
Mediterranean Step 1– sweet and savory body scrub
Sacred lotus, brown sugar, salt and essential oils of lemon, mandarin, grapefruit blend together in this delicious and purifying body scrub. Luxurious and nourishing, it leaves your skin velvety smooth and silky soft.
Egyptian Step 2– precious milk bath
Feel like the God/Goddess of Egypt while you let your body indulge in pure pleasure. A fine white powder with musky scents transforms into creamy, sensual milk on contact with your body and water. Tensions just slip away during this ritual.
Indian Step 3– vital relaxation massage
The gift from the land of Ayurveda is a luxurious special oil massage, deftly delivered by Quan professionals to release stress. You can enjoy a deep, relaxing, revitalizing influence. Ingredients used are essential oils blended together with sandalwood and cedar.
Chinese Step 4– regenerating body wrap
This silky caress envelops the body in replenishing and regenerating softness. The delicate, powdery scent enhances its relaxing action, leaving the skin incredibly velvety and beautiful for days.
This entire ritual costs USD 145 (approx) but it offers in return 2 hours 30 minutes of privacy for rejuvenation and relaxation with your loved one in a plush "couples room." There is a flowing movement and all the treatments take place in the same room, in a comfortable sequence. This room has a bath tub (decorated with fresh rose petals) and two treatment tables for those who would like to share the experience with a friend. All required amenities are provided in this room with therapists guiding you around the world by drawing on their relaxation techniques.
Quan – an international benchmark
Davina Hassel, Marriott director says: "The benefits that Quan clearly enjoys over other spas in India right now is that JW Marriott being a recognized luxury brand worldwide, the services of our spa are of a high standard in a luxurious setting." In October 2007 Quan Spa won "the best hotel spa in India" at the Asia Spa Awards. The popularity of Quan would clearly be due to its striking ambience and the array of treatments offered. Western therapies like massage and reflexology, combined with eastern health practices spoil clients for choice.
Mumbai – the watering (w)hole!
Did you know the names of the seven islands which make Mumbai together? The Isle of Bombay, Mazagaon, Colaba, Old Woman's Island, Parel, Worli, and Salsette Island hold hands to become India's largest and most vibrant metropolis! Mumbai is famously called the "City of Gold' where anyone willing to work hard can achieve his/her dreams. Divided into the city and the suburbs, Mumbai has much to see. Much of Mumbai is just above sea level, with the average elevation ranges from 10 m (33 ft) to 15 m (49 ft), making all these areas breathtakingly beautiful. If you're looking for water, a stroll down Marine Drive or Juhu Beach, or Carter Road in Bandra is possibly the best way to discover how the Arabian Sea washes the city. Marine Drive is a windswept promenade, flanked by the sea and a row of art deco buildings. Looped between the concrete jungle of Nariman Point (Mumbai's Manhattan) and the leafy green slopes of Malabar Hill, Marine Drive is sometimes called the Queen's Necklace, strung with glittering street lights like a vast string of royal gems! The beaches also have Mumbai's busiest roads, with vehicles whizzing continually past huddled lovers, children & elders taking their evening walk.
Suman Chhabria Addepalli is a personal and corporate yoga trainer, certified by the Yoga Institute, Mumbai, India.