New York City, July 18, 2016 – Often times giving back to charity means self sacrifice, but Meera Gandhi, the founder and CEO of The Giving Back Foundation, is living proof that giving back yields only the best in your own life! Studies have shown that giving back yields happiness, evokes gratitude, and promotes better health, cooperation, and social connection. In lieu of this idea and her foundation's mission, Meera Gandhi created a daylong retreat at her private estate in Hyde Park, New York, that boasted charitable giving, while instilling self-care and spiritual enlightenment through meditation and mindfulness. Overlooking the Hudson River, attendees were inspired and enlightened on how to practice mindfulness, happiness, movement, and meditation—all while giving back to charity!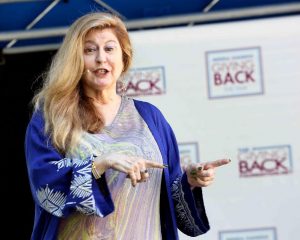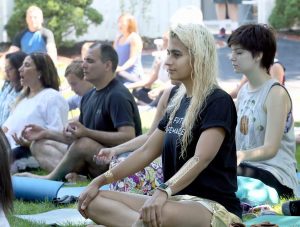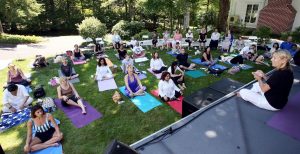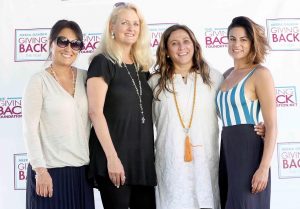 Unlike the traditional gala soirée with the black-tie and evening gown affair, Meera Gandhi attempted something new that nurtures the soul and helps individuals to be more proactive within their community, whilst helping and connecting with others. City dwellers and upstate New Yorkers alike took a break from their day-to-day routines to take in some light yoga, meditation, vibrational music, body movement, chakra healing, and a light vegetarian lunch.
The program included the following: Inga Benson led a pranayama meditation and warm-up yoga session, Miriam Belov (founder of Manhattan's Wellness Agenda) spoke about the importance of self-love and chakra healing in our daily lives, (British film director, writer, and producer) Martha Fiennes flew in from London to showcase her new film project that featured groundbreaking software technology that enables a digital image to evolve and change over time – creating its own narrative, Brooklyn-based choreographer Jules Bakshi led a body-love movement session that instilled the values of appreciating and nurturing our bodies, and Los Angeles-based musician and feminist activist Kiran Gandhi of the Madame Gandhi electronic-music project (who has toured internationally with musicians like M.I. A. and Thievery Corporation) showcased the power of meditation and mindfulness through music with her shaman drumming.
Attendees also received an exclusive Giving Back Candle, valued at $100. The candle offers a specialty scent of ambrosia, lavender, and patchouli notes in a sleek, satin-black glass vessel. The candle is also valuable in that all proceeds from the candles go toward empowering women and children around the globe through The Giving Back Foundation.
About Meera Gandhi and The Giving Back Foundation
Meera Gandhi's motto is: "we are to the universe only as much as we give back to it."
Born in Mumbai, India to an Irish mother and an Indian father, Meera Gandhi had the rare opportunity to meet Mother Teresa in person while volunteering at the age of 16, which had a profound impact on her life. Since then, Meera Gandhi—along with friends like the Kennedys, the Rockefellers, and the Blairs, amongst others—has helped scores of charities around the world. Additionally, Meera Gandhi was recently honored with the Global Humanitarian award at the Marc Anthony Maestro Cares Foundation Gala.
As a lifetime philanthropist, with a love for volunteering embedded by her mother, Meera Gandhi established The Giving Back Foundation in 2010 as a 501C(3) non-profit organization. Its beneficiaries are carefully selected existing charities and individuals around the world, with special emphasis on women and children in need. The foundation's primary activities include alleviating poverty, illness and suffering, and helping to educate young children. The foundation also exists as a platform for debate and discussion, as philanthropic activities continue to evolve around the world.
Some of The Giving Back Foundation's affiliations include:
Asha Daan – an orphanage run by nuns from the Missionaries of Charity, founded by Mother Teresa
ONE (campaign against poverty) and RED (campaign against HIV/AIDS in Africa) – both co-founded by Bono from the band U2
Cherie Blair Foundation – for the advancement of female entrepreneurs
CRY (Child Rights and You) – for underprivileged children's rights
ERVK (Eleanor Roosevelt Center at Val-Kill) – for human rights and social justice
Grameen Foundation – microcredit financing to enable the poor (especially the poorest) to create a world without poverty
Habitat for Humanity – building affordable housing for low-income families
You can find more about Meera Gandhi at: http://www.meeragandhi.com, and more about The Giving Foundation at: "http://thegivingbackfoundation.net"