The bucolic coastal hamlet of Mendocino, California is an ideal location for a long getaway akin to a stopover in prelapsarian Eden. Although Mendocino isn't exactly a hop, skip, or jump away from city life, a sinuous drive through mammoth redwood forests, 360-degree vistas of churning ocean, and gorgeous windswept promontories make it an exquisite alternative to the typical wine country jaunt.
Indeed, the beauty of the small township—chock full of picture-book Victorian houses, verdant gardens in full bloom, and rugged bluffs—is encapsulated in Stanford Inn by the Sea, a resort that sits pretty on a hill overlooking the Big River. Stanford Inn, a place lauded for its attention to details and its staunch commitment to sustainable living, is the kind of resort that inspires epic, standing-on-a-precipice paeans to nature, which hardcore urbanites might be hard-pressed to make elsewhere.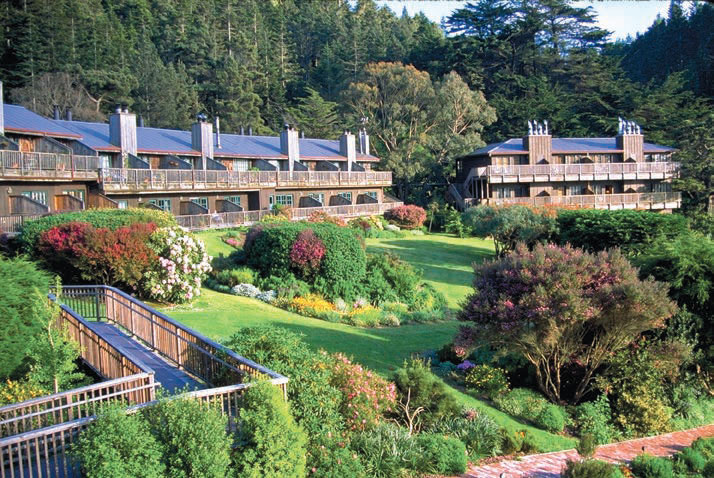 One of the most notable aspects of a stay at Stanford Inn is taking comfort in the assurance that it has been one of the foremost green resorts in Northern California for the past 30 years—well before "green" was a common term in our cultural lexicon. By offering one of the few vegan organic fine dining experiences in North America (Ravens Restaurant, a casual yet elegant eatery on the premises that specializes in haute organic cuisine), featuring several rolling acres of land devoted to sustainable gardening and landscaping, composting all food and organic wastes, supporting the work of local artists and other community members, and providing energy conservation programs (in heating, lighting, and laundry) for the last three decades, Stanford Inn operates on an ethic which honors the environment in meaningful and intentional ways.
"There's an energy here that we'd rather move with than move," explains innkeeper Jeff Stanford. "Living here, we adopted the concept of working with nature rather than against it. The Inn doesn't fit into the overall ambience of Mendocino—it is an expression of this ambience."
Purchased by the Stanfords in 1980, the Inn was based on Jeff and his wife Joan's personal interest in organic and vegetarian living, as well as decisions that augured the least harm to the environment. What visitors can see in the Inn today—modern buildings featuring rustic yet exquisitely spacious suites and rooms featuring wood burning fireplaces, pine- and red wood paneled walls, commodious four-poster beds padded with luxurious linens, and balconies overlooking the property's lush organic gardens—is the realization of the original vision the Stanfords nurtured for a coastal retreat. Here you'll find an aesthetic that is epicurean and practical, palatial and homey. The list of amenities is long and impressive. One-bedroom suites and 32 rooms with sitting areas and king or queen beds also boast flat-screen HDTVs, wireless Internet, and coffeemakers supplied with organic, fair-trade coffee. And all rooms are festooned with the work of local artists, adding a touch of coastal authenticity to the mix.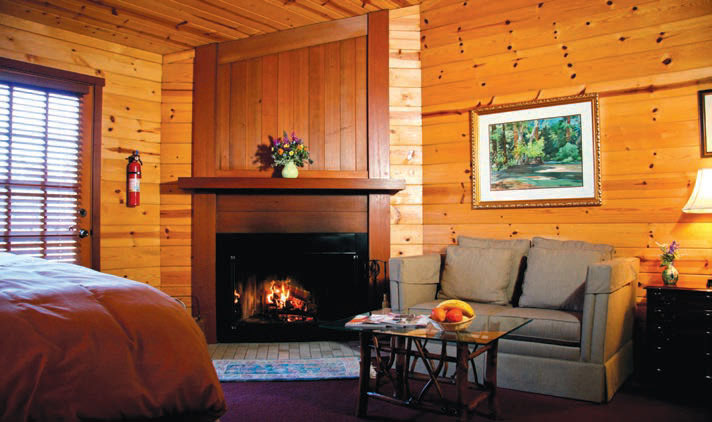 Stanford Inn is the preferred respite of young city-dwellers looking for a bit of breathing room from high-pressure occupations. Guests typically tend to be young and outdoorsy—urban explorers who are technologically savvy while also harboring an interest in sustainable living. A plethora of hiking trails—as well as bicycles, canoes and kayaks supplied by Stanford Inn—offer guests plenty of opportunities to kick back and enjoy the scenery. A solarium enclosed swimming pool just off the Inn's spacious lobby is also a favorite location, especially on chilly days.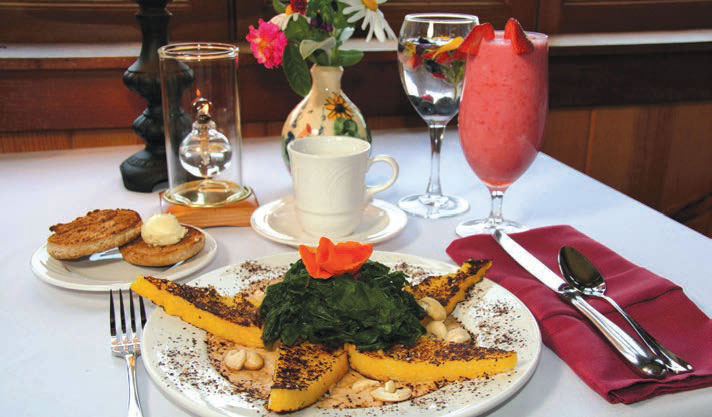 One of the major draws of Stanford Inn is Ravens Restaurant, the award winning dining establishment that Jeff and Joan opened 13 years ago. "Through the restaurant, we can demonstrate our belief that humans can live lighter and more joyfully on the planet," explains Jeff. Stanford Inn's gardens' supply approximately half of the produce that the restaurant uses; in fact, prior to the opening of Ravens, the Inn's produce was one of the first commercial purveyors of organic produce in the region.
The restaurant specializes in innovative, delicious organic food, and 99% of the ingredients featured are completely organic. From sustainably harvested seaweed to bio dynamic wines, the restaurant's offerings are all vegan, with egg and dairy options. Dinners at Ravens are surprisingly hedonistic: everything from white bean-zucchini sea palm sliders, to garam masala scented crepes, to the restaurant's signature triple chocolate tart will ensure that omnivores won't be pining for their meat options while dining here. After a long day of kayaking or soaking in the hot tub, guests may opt for a massage or facial at Mendocino Center for Well-Being – a health center staffed by local therapists and wellness aficionados which offers everything from acupuncture to Ayurveda to aromatherapy wraps and organic facials. Aside from the soothing spa services, Mendocino Center for Well-Being also allows guests to sign up for foraging hikes (where they can learn about different varieties of edible and medicinal local plants, berries, fungi, and herbs), nutrition classes, and drop-in acupuncture at substantially reduced rates. "We work with several local practitioners supporting a community effort to provide complementary techniques for community health," Jeff notes.
After an hour of yoga or a limb loosening Abhyanga massage, consider a visit to one of the local watering holes or quaint specialty shops. But although you'll find plenty of activities to make your stay at Stanford Inn a singular experience that whets your appetite for communing with nature, it may be that simply enjoying a glass of wine while listening to the crackle of your fireplace above the din of a roaring Pacific Ocean will be one of the most satisfying activities you're likely to partake of here.