Today, people across the world have re-evaluated their lifestyles and drifted into focusing on a more hygienic one. Sanitization and hygiene are now the watchwords of daily life and important aspects to be maintained for living a safe and healthy life.
Since, people living in urban areas, follow a dynamic routine, their skin is extensively exposed to daily wear and tear. Their body receives toxins with extreme amount of heat and dirt seeping in through open skin pores and further being transferred inside the system. Thus, clothes that you wear all day play a vital role in following a healthy lifestyle. You tend to sweat more while wearing synthetic clothes, likewise, if you are working out, the chemicals in your clothes will seep through your vulnerable skin pores and then into your system. By the choice of fabric; it is not just saving environment but rather protecting your body and skin from being exposed to harmful chemicals which further relay into skin diseases if exposed. Our skin has the ability to absorb everything it comes in contact with, which further enters into our blood stream and is continually putting us at passive risk of infections and other skin diseases. Whereas, it is important for us to be focusing on proper laundering of clothes, it is highly vital to emphasis on the kind of material and chemical we are exposing our skin to.
While, people are still understanding the importance of textile hygiene, there have been technologies developed in India and internationally patented by countries like USA, Europe to name a few, using 100% vegan, cruelty free and truly sustainable treatment of textiles with mixture of healing herbs meticulously chosen over years of R&D and has gained likes of various brands. Textile coated with a layer of anti-microbial, anti-fungal, anti-virus and anti-bacterial herbal dyes to prevent such infections is highly valued when it comes to textile hygiene. The herbal/ayurvedic dyes are made of natural immunity boosting, skin-fortifying and anti-oxidant herbs such as Neem, Tulsi, lemongrass to name a few which are universally used as Ayurvedic Medicine and skincare products helping in creating a hygienic environment even on sweaty and dampen days. The technology has not only proven to be beneficial for skin but also for its minimal GHG Emissions and causing low carbon footprints, making it absolutely eco-friendly.
Ayurveda is not only about medicines. The concept has certainly caught people's fancy nowadays but it being associated with healthy way of living since time immemorial. The new norm in fashion is – herbal. Herbal wear is being chosen largely, for its fabric-kind and softness. These herbal garments have natural body-odor resistance, as there is feel of little or no perspiration. The materials used in herbal fabric are easy on your skin. These are chemical and synthetic free, giving your skin room to breathe. In addition, people are at reduced risk of catching infections. There are many more benefits.
Unlike other dyes, these are absolutely eco-friendly causing no harm to skin as well as the environment. Such herbal dyes limit free-radicals, which are present in regular clothing treated with dyes and other chemical agents that can cause damage to skin cells. Herbal dyes also helping in maintaining the ideal pH of skin to avoid any kind of skin irritation or dermatitis. Regular textile material is usually treated with Azo-based Chemicals (present in commercial dyes), Anti-wrinkle resins, flame-retardant additives, latex, rubber etc which are usually harmful for skin. Meanwhile, the herbs used are also well-known for its immune-boosting properties, they also act as a protective guard to skin against various skin related issues.
Micro particles of herbs like Neem, Tulsi, Aloe vera, Apple cidar vinegar and others enhance the skin tone, while redeeming the benefits of being natural moisturizers, anti-oxidants and improvers of muscle firmness. Therefore, it makes these herbal organic wears with Ayurveda sustenance skin protecting, wellness enhancing and augmenting your magnificence and charisma manifold. While focusing on disinfecting and laundering your textile to avoid any chances of infection, we need to understand, that, in addition to other relevant factors responsible for infesting our systems, it is categorically also the choice of clothes we wear. A perfect example of circular economy in Textile!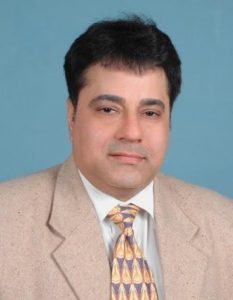 Rajiv Rai Sachdev, is the M.D of Joy of Life, first of its kind truly sustainable, organic, herbal, vegan, green garments made from all kinds of textile fibers and processed with 100% renewable and biodegradable resources and medicinal Herbs having minimal impact on the nature.http://www.advantagenature.com/pages/about-compact/index.html